Dryer Vent Cleaning
There most compelling reasons for dryer vent cleaning are: Fire protection, energy conservation, and lower power bills.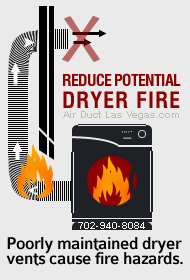 Clogged dryer vents, most often due to lint buildup, is the number one reason for dryer and exhaust duct malfunction. When left unattended, lint, dust and dirt impair airflow, which, in turn, can cause heat buildup in the duct. In some dryers, this can actually lead to loss of life and/or property due to house fires. In fact, fires of this type of have been determined to be the reason for tens of thousands of residential fires which resulted in deaths, injury and millions of dollars in property damage.
In addition to being a fire hazard, clogged dryer vents will also cause your clothes dryer to function inefficiently, and it can take more than twice as long for clothes to dry. Not only is this a waste of energy, but it notably reduces the life of your dryer and raises your power costs significantly. Dryer vent malfunction will cause reduced drying efficiency in all dryers, including energy-efficient ones.
Be green. Be frugal. Be safe. Have your dryer vents cleaned professionally today by the experts of Air Duct Cleaning Las Vegas. The $69 - $100 cost is insignificant when compared to the cost of having to prematurely replace your dryer or go through the trauma of a home fire.